, CALIFORNIA

GO TO HOME PAGE




---

Mariposa County Library Website: Resources and services provided by the Mariposa County Library system, including many links to local community resources.

Microfilm/fiche of the Mariposa Gazette and various Historic Records are available at the Mariposa County Library--------Be sure to stop here on your visit to Mariposa.......

4978 10th St., Mariposa, CA 95338 - across from the Historic Mariposa County Courthouse

| | | | |
| --- | --- | --- | --- |
| Monday | 8:30 a.m. | - 4:00 p.m. | |
| Tuesday | 8:30 a.m. | - 6:00 p.m. | |
| Wednesday | 8:30 a.m. | - 6:00 p.m. | |
| Thursday | 8:30 a.m. | - 6:00 p.m. | |
| Friday | 8:30 a.m. | - 6:00 p.m. | |
| Saturday | 8:30 a.m. | - 4:00 p.m. | |
| | | | |
| | | | |
Closed Sundays & holidays
Mariposa Historic Photos-
The images in the Mariposa County Library's image gallery were generously provided by local museums, pioneer families, and historians. The collections depict varied aspects of life through the years in the foothills and mountains of Mariposa County, California. Images include famous locales, small town events, Native Californians, family portraits and well-known individuals. Some of the photograph collections are quite large, and are represented here by only a few selected images.

---
MARIPOSA HALL OF RECORDS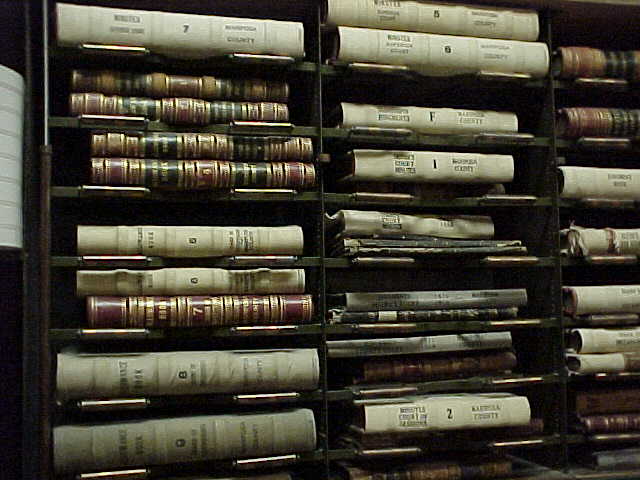 photo C Feroben
You may view Vital Record Indexes (Birth, Death, Marriage) and obtain copies of these Vital Records at the
Mariposa Hall of Records: (see more details here)
4582 10th Street, Mariposa,
95338.
(209)966-5719


Also Note these other resources for viewing at the Mariposa County Hall of Records
(This information submitted by Steve Miller-Feb, 2002)

Microfiche located at the Recorders Office
in the Hall of Records

Deeds 1- 32 A-Z


Mining Deeds
Mine Names Index
Mine Records
Proof of Labor
Index to Locator of Mines
Notice of Location (mines)
Mining Claims
Quartz Mining
Coulterville Mining
Index to Decrees and Decrees of Distribution**

**This one is a sleeper, I have found recordings here of probate related decrees from other counties incl. San Francisco. Mainly they had lived or acquired property in Mariposa and the heirs had to file copies of the probate decree from the other county to be able to do whatever with the Mariposa asset. They have in the book along with name of deceased; administrator, names of heirs, Ct of origin for the probate and book/page for the microfiche copy of the document.

Tax Deeds
Homesteads---by Head of Family
Marks Brands
Water Rights
Tax Sales
Mortgages
Powers of Attorney
Lease
Official Bonds
U.C.C.
Misc. ???
Liens
Chattel Mortgages
Index to Agreements
Agreements

---
NORTHERN MARIPOSA COUNTY HISTORY CENTER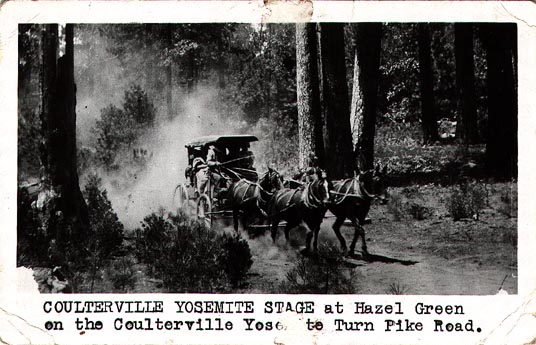 NORTHERN MARIPOSA COUNTY HISTORY CENTER
Located at the corner of Hwy. 49 and Hwy. 132 in Coulterville.
call 209-878-3015 or EMAIL
Museum hours, 10 a.m. till 4 p.m. Wed. through Sun., with special tours by appointment on Monday and Tuesdays. We want to help people with their search and are very willing to help point them in the right direction. There is no charge for research assistance. Gail suggests these books for researching family history in the Northern Mariposa County area: a) Coulterville Chronicle $12.50
b) History of Coulterville $5.95
c) Seven Sisters $5.00
d) Big Oak Flat The Road to Yosemite $12.50
above prices do not include tax or shipping charges
These books may be purchased through the History Center
---
YOSEMITE RESEARCH LIBRARY AND MUSEUM
in Yosemite National Park
The Yosemite Research Library is open to the public. Tuesday - Friday,
8-12 and 1-5. Also some Mondays.
CAll AHEAD
Librarian, Linda Eade 209 372-0280

The museum staff works Monday - Friday 8-5. The Museum Curator is Jonathan
Bayless, 209 372-0282; Museum Collections Manager, Barbara Beroza  209
372-0297; Museum Registrar, Miriam Luchans 209 372-0281; Museum Technician,
Greg Cox 372-0283 and Park Archivist,  Paul Rogers 209 379-1282.

With only one person operating the library and a very small  staff in the
museum, we must request that individuals come to the library and museum to
do their research. We just don't have available staff to do  research for
people. For the museum, an appointment is necessary. It's best to arrange
an appointment with Barbara Beroza or Miriam Luchans. An appointment is not
needed to visit the library, but call ahead to confirm the library is open.

Yosemite Research Library
P.O. Box 577
Yosemite, CA 95389
(209) 372-0280
---
LDS Church, Family History Center Mariposa Branch=
5546 Hwy. 49 N. Mariposa, California 95338 USA Phone: 209-742-5010
Hours open: T-W-Th 10 a.m. to 4 p.m.

These films are located at the Family History Center in Mariposa:

ALL MARIPOSA COUNTY INFORMATION:

Census, Population Schedules for 1850, 1860, 1870, 1880, 1900, 1910, 1920.


Film No. 1750738  1850  Census   Mariposa County, CA
Transcription and index by Merced County Genealogy Society.  Includes surname index, dwelling number, individual names, age, six, occupation and birthplace.


Film No. 976934   Great Registers: 
Voting registers for Mariposa, CA
1872-73, 1875-77, 1879-1880, 1882, 1884, 1886, 1888, 1890, 1892, 1894, 1896, 1898


Film No. 182795  Sexton and cemetery records, Coulterville, CA
Contains card index to burials, giving name, death date, age, and cemetery where buried. 


Film No. 1290997  Birth records  for Mariposa County
Birth index 1873 to 1980 , register of births 1873-84, register of births 1903-1919, Birth certificates 1903-1919.  (some years missing)


Film No. 1290998  Marriage records  for Mariposa County
Indexes to marriages 1851 to 1980, Marriage licenses 1851-1880, Affidavits of marriage licenses 1880-1907

Film No. 1290999  Marriage records for Mariposa County
Marriage licenses 1880-1919 (Items 1-4 on film)


Also Film No. 1290999  Death Records for Mariposa County
Index to death records 1873-1980  (Item 5), death records 1873-76, 1905-10 (Items 6-9)

Film No. 1291000  Death Records for Mariposa County
Duplicate death certificates 1910-1922
Be sure to search the LDS online site at:
http://www.familysearch.org/

---
Return to the Mariposa County History and Genealogy Homepage
Updated- January 15, 2006