Mariposa History and Genealogy Research

---

MARIPOSA COUNTY RECORDERS OFFICE
This is not an offical County Site

INDEX OF MARIPOSA COUNTY RECORDS PUBLISHED IN 1919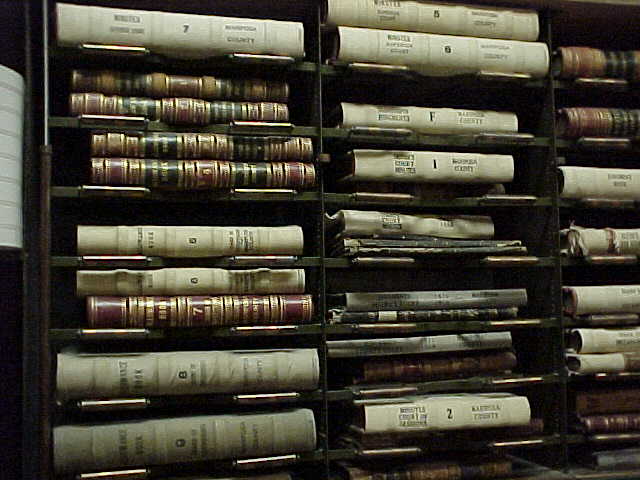 photo by Carolyn Feroben-
Mariposa Court House Vault- 2001
(before the records were removed to the History Center Basement)

"Time and accident are committing daily havoc on the originals
deposited in our public offices... the lost cannot be
recovered, but let us save what remains; not by vaults and locks
which fence them from the public eye and use...but
by such as multiplication of copies, as shall place them beyond the
reach of accident."
Thomas Jefferson- 1791

LDS Films of Mariposa County Records
Also Note these other resources for viewing at the Mariposa County Hall of Records(This information submitted by Steve Miller, Feb 2002)

Microfiche located at the Recorders Office
in the Hall of Records:
Deeds 1- 32 A-Z
Mining Deeds
Mine Names Index
Mine Records
Proof of Labor
Index to Locator of Mines
Notice of Location (mines)
Mining Claims -description of record
Index to Decrees and Decrees of Distribution**
**This one is a sleeper, I have found recordings here of probate related decrees from other
counties incl San Francisco. Mainly they had lived or acquired property in Mariposa and the heirs
had to file copies of the probate decree from the other county to be able to do whatever with the
Mariposa asset. They have in the book along with name of deceased; administrator, names of
heirs, Ct of origin for the probate and book/page for the microfiche copy of the document.
Tax Deeds
Homesteads---by Head of Family
Marks--Brands
Water--Rights
Tax Sales
Mortgages
Powers of Attorney
Lease
Official Bonds
U.C.C.
Misc. ???
Liens
Chattel Mortgages
Index to Agreements
Agreements
cdf
Return to Mariposa History and Genealogy

updated January 14, 2003