CALIFORNIA


PEA RIDGE CEMETERY
MARIPOSA COUNTY, CALIFORNIA
located on
PRIVATE PROPERTY
No Trespassing


Researched and compiled by
Lois Ham Williams
Mariposa & Visalia, CA
December 1979


Thos. J. COUCHRAN
1867-1871

Charles Spofford HATCH
10-18-1820
Died in Ben-Hur, CA 5-20-1902
Born in Haverhill, Mass.

Nellie M. LOWRIE
Born and Died
1-27-1899

Emma MORRIS
Died 3-16-1909

John ORME
Died 10-28-1927
Aged 76 years
John ORME, Sr.
Died 1-25-1906
Aged 76 years
Native of England

Michael ORME
Died 12-27-1871
Aged 61 years
Native of England

Mary ORME
Native of Worchestershire, England
Died Aug. 30, 1908
Aged 87 years
(Having Served her Generation, by the Will of God, She Fell Asleep.)

B. M. WILLIS
Born 8-14-1838
Died 11-22-1883
Of Tenn.
"Remember man, while passing by,
As you are now, so once was I.
As I am now, soon you will be,
Prepare for death and follow me."

Jesseh YOCUM
1840 – 1897

Francis A. YOCUM 1842 – 1911
YOKUM HEADSTONE=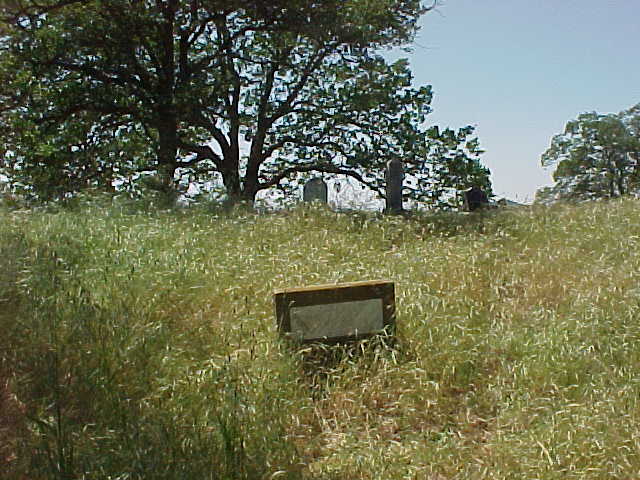 One Headstone Marked UNKNOWN
There are other graves that are either marked with stones or wood, but are unnamed.

RETURN TO MARIPOSA CEMETERY MAIN PAGE
GO TO MARIPOSA COUNTY HISTORY AND GENEALOGY RESEARCH
DECEMBER 1, 2002

Although believed to be correct as presented, if you note any
corrections, changes, additions, or find that any links provided on this page are not functioning
properly please contact Carolyn for prompt attention to the matter.

ALL RIGHTS RESERVED