CALIFORNIA
mariposaresearch.net
HOME OF JUDGE J J TRABUCCO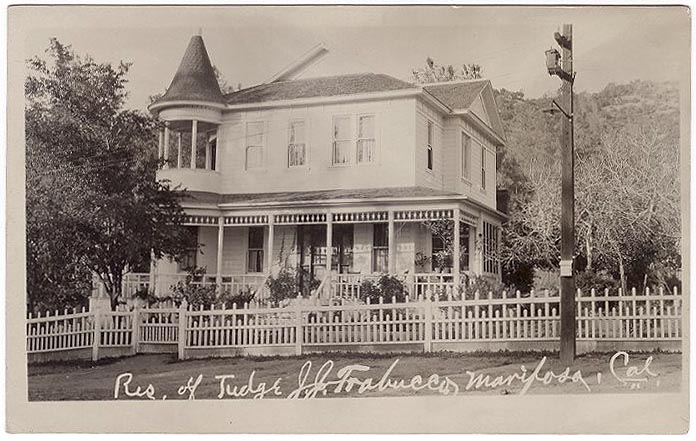 PRESERVE TRABUCCO HOME-
Modest Bee and News- Herald, December 28, 1959
This two story Mariposa County home of the famed circuit court judge of days gone by will become a historic relic on the death of his widow if chamber of commerce plans materialize-

HOME OF FAMED JUDGE MAY BECOME A MUSEUM

Mariposa, Mariposa Co- The Mariposa County Chamber of Commerce has agreed to initiate action to preserve the family home of the late Judge J J Trabucco, who during his 36 years on the bench became known as the "state's champion circuit rider."
The home was left vacant on the death of his widow, Mrs. Edith Trabucco. Both died on December 13th, 21 years apart.
Mrs. Trabucco's will, filed for probate, leaves the home to her sons, Louis of Piedmont, Alameda County, Eugene of Hillsborough, San Mateo County.
Carl Kelly, chamber president, said several persons already have inquired about the purchase or rental of the two story, frame building, constructed in 1901. Although the residence is not as old as many other structures in this history conscious community, Kelly said the "home should be preserved as an historic site or museum because of the significance of the Trabucco family".


Judge TRABUCCO, born in Bear Valley of pioneering parents who settled in this part of the Mother Lode in 1850, served on the superior court bench in Mariposa from 1903 until his death in 1938. He attended school in Bear Valley and as a boy worked in a grocery store and delivered supplies to miners on pack mules.


Before his elevation to the judgeship he was the county assessor and district attorney. Assigned to handle cases in 40 different counties, he became known as one of the outstanding trial judges in the state, handling many which attracted national attention.


Heard Lamson Trial

He presided over the famous William Edward Hickman murder case in Los Angeles and the David Lamson trial in San Jose. He was called to preside over the latter after two hung juries. He presided over the boundary line case between the cities of Oakland and Alameda, which involved $40,000,000 in property.


His life was threatened in San Francisco by an angry litigant, displeased with the judgement awarded. The quick action of a court clerk prevented what could have been a fatal shooting.


The chamber of commerced voted to contact the two heirs, requesting they did not sell or rent the family dwelling until plans are made to acquire the property. Kelley said the Mariposa County Historical Society and all other county organizations will be informed of the project to preserve the home.
transcribed by c feroben
RETURN TO MARIPOSA COUNTY HISTORIC PHOTOS