, CALIFORNIA
HISTORY AND GENEALOGY RESEARCH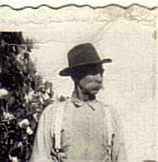 Joel Bowie Ashworth- 1928

Joel Bowie Ashworth ca.1935
ASHWORTH FAMILY REUNION, JUNE 14-18, 2011
UPDATED SCHEDULE


For those of you who haven't read or heard, the Wagon Train
Trail ride has been cancelled because of the equine herpes virus.
This only made some minor adjustments to our "gathering
schedule. They are still doing Sat. night at the Van Ness Ranch
which we plan on attending for the stories, poetry, dinner & dance.
REUNION OF DESCENDANTS OF DC ASHWORTH
A get together of the descendants of DC Ashworth, a Mariposa pioneer
and 49er will be held the week of June 14 through the 18th.
Allied families include: Wasses, Gordons, Milburns, Zimmermans,
Scotts, Clarks, Reeces, Hodgsons, Prestons, Trabuccos
and many more of Mariposa pioneers.
The schedule includes a tour of the Mariposa Museum and
History Center, cemeteries, court house & homesteads. This will be
held on
Tuesday June 14 at 9:00 am,
starting at the Museum parking lot.
Wednesday June 15 will be a tour of Wawona and Yosemite.
We will meet at the parking lot at the Mariposa Grove of Big Trees at
9:30 am.
Thursday June 16
no activity scheduled. Feel free to do what interests
you.
Shop, tour the area, go hike in Yosemite.
Friday June 17
- 12:00 to -----pm. Gather at YOSEMITE SPRINGS RANCH,
3291 Woodland Dr, Mariposa. about 8 miles East of Mariposa and about
15 miles West on SR49 from Oakhurst. Snacks & refreshments
Bring your family histories, family tales (tall & short), pictures.
Dinner at 5:00 pm.
Bring a main dish to share - table service, refreshments, salads &
dessert
will be furnished. There will be activities for all ages.
Saturday June 18
- We will gather at Yosemite Springs Ranch beginning
at 12:00 to finish connecting - information exchange - story telling -
games.
We will be going to the Van Ness Ranch for the Raffle, Dinner & Dance.
Dinner & Dance fee is $20.00 per person . Pay at the door.
If you are a Mariposa High alumni - attend the reunion picnic then join
us
for the remainder of -the day & dinner & dance.
Info for:
Ashworth Family History - mariposaresearch.net
Reunion info: & RSVP Mary Ashworth Phelan - h. 520-445-6573 c -
928-245-1256
e-mail
maryphelan@cox.net

READ MORE ABOUT THE ASHWORTH FAMILY OF MARIPOSA