CALIFORNIA
HISTORY AND GENEALOGY RESEARCH

THE ROUSE FAMILY OF GRANITE SPRINGS,
MARIPOSA COUNTY, CALIFORNIA

Written by Robert Schamber of Folsom, California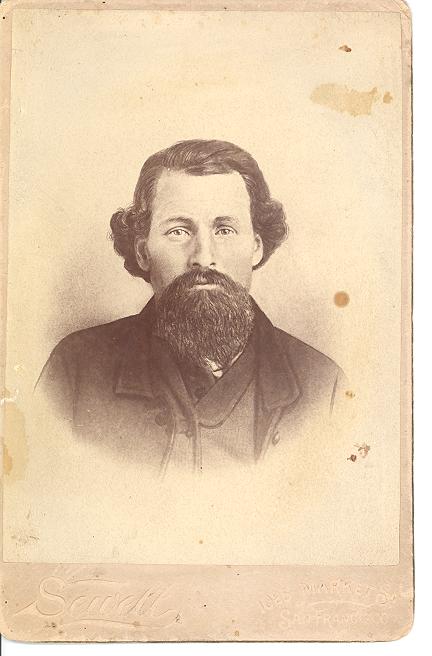 Ira Rouse
, was born about 1836 in Putnam County, Indiana, to
Phillip Rouse
and
Freelove Cole
,
both natives of Washington County, Virginia. On Ira's paternal side, he was a fifth generation American. His great-great grandfather,
Johann Adam Roush
, emigrated from Germany to America in 1736 and his great grandfather,
Palser (Balser) Rouse Sr.
, established the family in Washington County, Virginia. On Ira's maternal side, he is descended from several distinguished Americans:
Captain Joseph Cole
, a Revolutionary War Veteran;
Robert Treat Paine
, a signer of the Declaration of Independence; and
Stephen Hopkins
, a Mayflower passenger.
When Ira was five years old his parents and siblings moved to Gentry County, Missouri. At age 20, Ira married to Clarissa Birchfield on 30 October 1856 in Carroll County, Missouri. They had one daughter Emmaline Rouse, who was born 25 November 1858 in Gentry County, Missouri. Ira's wife, Clarissa, died on 21 December 1858 within one month after giving birth to her daughter. Family lore from the Birchfield family has stated that after Clarissa's death, "Ira supposedly went out to chop wood in the forest and was never heard from again." Since Ira was only 22 years old when his wife passed away, he probably had no means to care for his daughter. However, his daughter, "Emily," was adopted by age two and she was living with David and Melissa McCully in 1860 in Gentry County, Missouri.
During the Civil War, Ira enrolled on 22 March 1862 as a Private in the Union army in Company "E," 1st Regiment of the Missouri State Militia Cavalry and served until he was honorably discharged on 23 April 1864. His military records gave this description of him: 5 feet – 7 inches tall, light complexion, blue eyes and dark hair. While serving in the same regiment, Ira's friend, William Bishop Higdon, was killed on 12 October 1863 on Dug Ford of the Lamine River during a battle with Shelby's guerilla band. Mr. Higdon had been married for only seven months to Nancy Ann Burks. According to family tradition, Ira delivered the message to Nancy Ann Burks Higdon about her husband's death.
Shortly afterwards Ira Rouse and Nancy Ann Burks Higdon were married on 2 April 1865 in Andrew County, Missouri. In about 1869 the couple and Nancy's parents, Henry Burks and Sarah Cooper, moved to Bates County, Missouri. Ira and Nancy purchased property near Rockville and sold it in April of 1874 prior to leaving for California. Four children were born to Ira and Nancy in Missouri – Elizabeth Sarah Rouse, Delcena Cegal Rouse and two other daughters, one of whom was probably named Louella Rouse.
In the summer of 1874 the family journeyed by oxen team out to California. We believe one daughter died during the journey and the other daughter, Louella Rouse, died in California. Louella is buried in the Coulterville Cemetery in Mariposa County, California. The family settled in the Granite Springs area, near Whiskey Flat, and by 1877 Ira and Nancy had staked a claim for homestead property. The property was about 9 miles west of the town of Coulterville. While residing in Granite Springs, Ira and Nancy had six more children – Mary Louella Rouse, Maggie Josephine Rouse, Charles Emmit Rouse, Cyrus Henry Rouse, Perry Rouse and Martha Irene Rouse. The family's neighbor, Mrs. Henrietta Stribling, acted as midwife during the children's births. According to family tradition Ira's son, Perry Rouse, died tragically by burning when a string that he was playing with in a bonfire caught fire.
Ira died on 4 February 1886 at Granite Springs, California at age 49 years. Ira was buried in Granite Springs in a small cemetery located on his neighbor's property, formerly known as the Wolleson Ranch (now the Sturdevant Ranch). Ira's daughter, Elizabeth (Lizzie) Haskell, is also buried at the same place. Nancy continued to support her family until her death on 9 August 1899 at age 55 years. She died on the Haskell Ranch, which was about 9 miles east of LaGrange in Tuolumne County, California. She is buried in the Granite Springs Cemetery in Mariposa County. Although no picture has been found for Nancy, she was described as a short lady who was very loving to her children.
The old County Survey Records, which are located at the vault at the Mariposa Museum and History Center, were searched and contained this information on the homestead claim of the Rouse property in Township No. 2 South, Range No. 15 East:
Name

Registra-tion No.

Date of Settlement

Date of Filing

Location

Acres

Ira Rouse

2735

July 16, 1877

S ½ of SE ¼. Section 33

160

Ira Rouse

2735

July 16, 1877

W ½ of SW ¼ Section 34

Ira Rouse

12315

Aug. 23, 1879

Feb. 19, 1881

NE 1/4, Section 33

160

Nancy A. Rouse

4625

April 19, 1886

NE 1/4 Section 33

160
The homestead property of Ira Rouse and Nancy Ann Burks has now been parceled into a large subdivision. The southwestern portion of the 160 acres, near Whiskey Flat, is on relatively flat land and this location may be where the Rouse family established their home and farm. Four major roads now pass through the property including Granite Springs Road, Grillo Drive, Violet Way and Tulipan Way. There are several designated equestrian trails along stretches of the roads. Also there are numerous homes in the area and each property contains several acres of land for raising farm animals.

The children of Ira Rouse and Nancy Ann Burks married into several pioneer families from the Coulterville area, including the Canovas, Halsteads, Haskells, Porters and Shimers. The children of Ira and Nancy were as follows:
Name

Born

Married

Died

1. Elizabeth Sarah

(Lizzie)

4 Aug 1868

probably Gentry County, MO

27 Oct 1885

Granite Springs, CA to Edgar Herriman Haskell

26 Feb 1896

Coulterville, CA

2. Delcena Cegal

(Della)

23 Jan 1870

near Rockville, Bates County, MO

#1 28 Jul 1887 Coulterville, CA to George Shimer

#2 about 1902 to

1 Jan 1938

Merced, CA

3. (Girl)

About 1872 Rockville, MO

Died in infancy

Died enroute to CA

4. (Girl), possibly

named Louella

About 1874

Died in infancy

Died about 1875 in CA. Buried in the Coulterville Cemetery

5. Mary Louella

(Molly)

15 Jan 1876

Granite Springs, CA

15 Jan 1893 Merced County, CA to

Archibald David Ramsey

7 May 1951

Sonora, CA

6. Maggie Josephine

12 Dec 1877

Granite Springs, CA

#1 17 Jan 1897

Granite Springs, CA to William Wesley Porter

#2 George W. Richey

28 Mar 1947

Yuba City, CA

7. Charles Emmit (Charlie)

31 Oct 1879

Granite Springs, CA

Remained single

2 Dec 1941

Tuolumne County, CA

8. Cyrus Henry

(Bub)

29 Mar 1881

Granite Springs, CA

26 Apr 1905

Jacksonville, CA to

Nora Mabel O'Connor

27 Nov 1948

French Camp, CA

9. Perry

About 1883

Granite Springs, CA

Died by burning when clothes caught on fire

Before 1888

10. Martha Irene

17 Jan 1886

Granite Springs, CA

27 May 1903

Sonora, CA to

William Leonard Canova

8 Jun 1904

Sonora, CA
Selected Photos of the Children of Ira Rouse and Nancy Ann Burks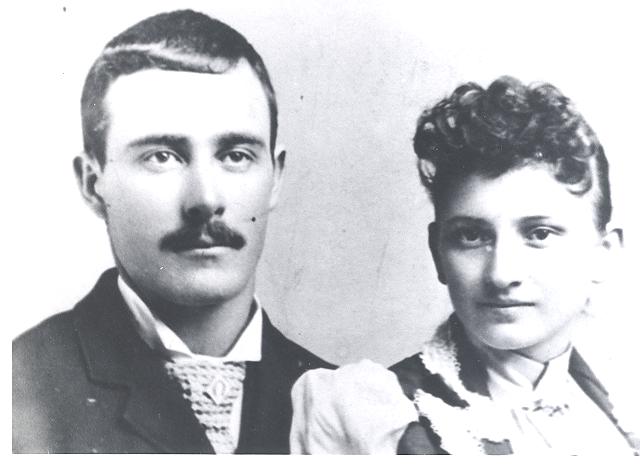 ARCHIBALD DAVID RAMSEY and MARY LOUELLA ROUSE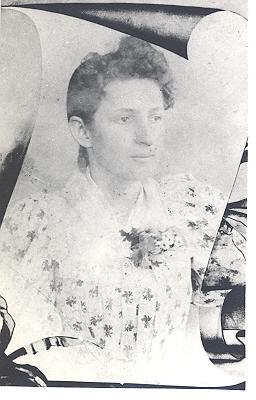 Maggie Josephine Rouse Porter-Richey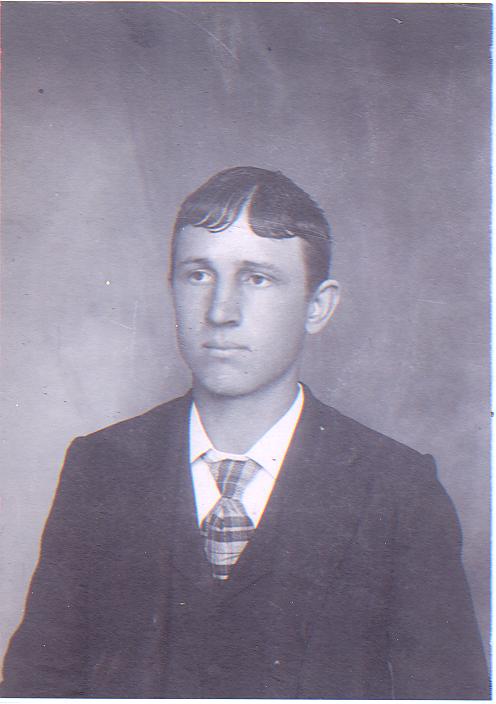 Cyrus Henry Rouse

Return to Mariposa County Family Chronicles