CALIFORNIA


BIBLIOGRAPHY OF MARIPOSA COUNTY HISTORY


PRESENTED FIRST ARE LINKS TO BERKELEY BIBLIOGRAPHIES OF THE NATIVE AMERICAN TRIBES ASSOCIATED WITH MARIPOSA COUNTY-
THE LISTING BELOW ARE BOOKS PERTAINING TO THE GENERAL HISTORY OF MARIPOSA COUNTY- BOOKS THAT ARE AVAILABLE FOR PURCHASE THROUGH LOCAL MUSEUMS AND HISTORY CENTERS etc. HAVE A DIRECT LINK TO THE SITE FOR PURCHASE-
For books that are out of print- check with your library, or for purchase on the secondary market here is a website to search----
http://www.usedbooksearch.co.uk/

AHWAHNEE HOTEL, Shirley Sargent


AHWAHNEECHEES, The
John W. Bingaman - READ ONLINE, Courtesy of Dan Anderson


BACON AND BEANS from a GOLD PAN
George Hoeper as told by Jesse Coffey-
a story of the depression years- mining the Aqua Fria


BIG OAK FLAT ROAD to Yosemite*** NOW FULLY TRANSCRIPTED AND ON LINE-----
Margaret Schlichtmann and Irene Paden

12.50 plus tax and shipping-available at the Northern Mariposa County History Center- call (209) 878-3015 or ***email to: nmchc@inreach.com

Click here to see an online index to BIG OAK FLAT ROAD

CALIFORNIA's AGUA FRIA
by Raymund Wood, published 1954

CALL OF GOLD ONLINE- thanks to Dan Anderson
Newell Chamberlain

COULTERVILLE CHRONICLE***
The Annals of a Mother Lode Mining Town
Catherine Coffin Phillips
12.50 plus tax and shipping-available at the Northern Mariposa County History Center- call (209) 878-3015 or ***email to: nmchc@inreach.com

DISCOVERY OF THE YOSEMITE,
AND THE INDIAN WAR OF 1851,
WHICH LED TO THAT EVENT.
BY LAFAYETTE HOUGHTON BUNNELL, M.D.,

ENCHANTED CHILDHOODS:
Growing Up in Yosemite, 1864-1945;
Shirley Sargent;

FORESTA
BIG MEADOW, Yosemite's Rustic Outpost
Shirley Sargent, 1983

FOOL's GOLD, MADERA AND MARIPOSA , CALIFORNIA
Vera Cauby Davis

GALEN CLARK, YOSEMITE GUARDIAN
Shirley Sargent, 1964.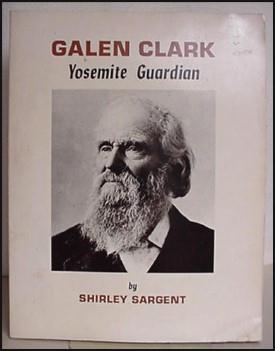 GHOST TRAIL TO YOSEMITE
Georgia Waltz and Eva Burns Lyons

GILA TRAIL, THE
Benjamin Butler Harris

GOLD SEEKER
Adventures of A Belgian Argonaut during the Gold Rush Years
Jean-Nicolas Perlot

GUARDIANS OF THE YOSEMITE online
(1961) by John W. Bingaman
HISTORY OF COULTERVILLE***
$5.95 plus tax and shipping-available at the Northern Mariposa County History Center- call (209)878-3015 or ***email to: nmchc@inreach.com

HORNITOS
Mary Edith Crosley (1959)

INDIANS OF THE YOSEMITE -READ ONLINE Courtesy of Dan Anderson
Galen Clark

IN THE HEART OF THE SIERRA, READ ONLINE Courtesy of Dan Anderson
Yosemite Valley and the Big Trees Groves
James M. Hutchings, Peter Browning (Editor)

JOHN MUIR IN YOSEMITE
Shireley Sargent


LETTERS HOME by Asbury & Hilliard Marr
By Anna M Underwood, published 2000-
Underwood Publishing-
P.O. Box 496642
Garland Texas 75049-6642
aeious2ix@msn.com

MARIPOSA COUNTY GUIDEBOOK
Shirley Sargent

MARIPOSA COURT HOUSE, SHRINE TO JUSTICE
Scott Pinkerton, Leroy Radanovich

MARIPOSA MEMORIES. RECOLLECTIONS OF A MOTHER LODE CHILDHOOD--1862-1880
Goucher, Marian Jones (edited by Shirley Sargent) Yosemite, CA Flying Spur Press (1974)


MARIPOSA- On The Gold Dust Trail
Elliott Koeppel

MARIPOSA THEN AND NOW
Allan Shields

MEMORIES OF COULTERVILLE (1954)
Ila Goss Barrett

MEMORIES OF EL PORTAL:
A History of the Gateway to Yosemite Valley.
James Law, Mariposa Heritage Press.

MEXICAN GOLD TRAILS
George Evans -Mariposa and Aqua Fria in 1849!

MIWOK MEANS PEOPLE
Eugene L. Conrotto

MOTHER LODE COUNTRY
Geologic Guidebook-Along Highway 49- Sierran Gold Belt
Bulletin 141- Division of Mines
MOTHER LODE NARRATIVES
Jessie Benton Fremont,
edited & annotated by Shirley Sargent

ONE HUNDRED YEARS IN YOSEMITE -READ THIS BOOK ON LINE--------
Carl Parcher Russell

PIONEERS IN PETTICOATS
Shirley Sargent

PO-HO-NO AND OTHER YOSEMITE LEGENDS
Elinor Shane Smith, Originally issued in 1921
(see Rocq #5272). Rocq # 5273.
PROTECTING PARADISE
Yosemite Rangers, 1898-1960
Shirley Sargent- see index


SHORT LINE TO PARADISE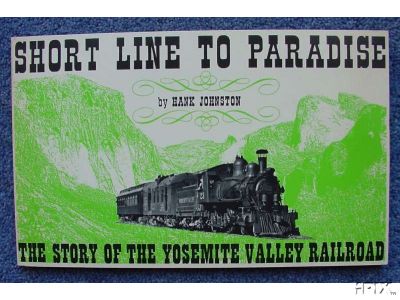 The Story of the Yosemite Valley Railroad
Flying Spurr Press, 1971
Hank Johnson



SNELLING-
McMillen, James M "Jim," _The Family of William Snelling and Sarah
Scott_. Arlington, Texas: Privately published, 1999.
McMillen, James M "Jim," _The Family of William Snelling and Sarah
Scott, 2nd Edition_. Arlington, Texas: Privately published, 2001. Copies
available from the author at 1300 Park Lane, Arlington, Texas.
jimmcmillen@earthlink.net
Genealogy and family history of William and Sarah Scott Snelling of
Christian County, Kentucky, and of eight of their children, seven of
whom were on the West Coast by 1851. Three of those children were
Benjamin Snelling of Mariposa County, Margaret Snelling Ricketts of
Santa Clara County, and Jemima Snelling Lightner of Kern County, all of
whom came from Missouri to California by the Southern Route in 1849.
Price is $13, postpaid.


SOLOMONS of the SIERRA
Shirely Sargent


St. Joseph Church- 125 Years

STAGE TO YOSEMITE
Recollections of Wawona's Albert Gordon
Anna Reynolds and Albert Gordon(1994)

THE GOLD OF OLD HORNITOS
Francisco Salazar, told to William Secrest (1964)

THE LAST OF THE CALIFORNIA RANGERS - ONLINE, thanks to Dan Anderson
Jill Cossley-Batt

THE LORE AND LURE OF YOSEMITE --READ online -Courtesy of Dan Anderson
Herbert Earl Wilson

THE MARIPOSA INDIAN WAR: 1850-1851, Diaries of Robert Eccleston: The California Gold Rush, Yosemite, and the High Sierras
Edited by C. Gregory Crampton

T HE MILLIONAIRE MINER AND THE INDIAN GIRL- A True Story- by Jim Hotchkiss
John Hite and Lucy- see this site for more details and ordering information

THE SEVEN SISTERS***
Mary Grace Paquette (1985)
(Seven Camiccione sisters marry into these families: Garborino, Gazzolo, Tiscornia, Semorile, Sanguinetti, Brescia, Garabaldi)
$5.00 plus tax and shipping-available at the Northern Mariposa County History Center- call (209) 878-3015 or***email to: nmchc@inreach.com

THE TRAGEDY OF TENAYA: A YOSEMITE INDIAN STORY
Allan Shields, Jerseydale Ranch Press. 1992. 86 pp. Softcover. 6" x 9".
A novella based on the life of Tenaya, last Chief of the Yosemitees (Ahwaneechees). It centers around the 'displacement of the Yosemite Indians by the early pioneer settles in the middle of the 19th century.--historical fiction, --

THE YOSEMITE GRANT- 1864-1906
A Pictorial History
Hank Johnston

TRADITION-INNOVATION: A Basket History of the Indians of Yosemite and the Mono Lake Area
by Bates & Lee
Coffee table type book with fabulous pictures of Yosemite Indians and verbal sketches of their families

TREASURES OF THE SOUTH FORK
Ralph Mendershausen


WAWONA'S YESTERDAYS --READ ONLINE--thanks to Dan Anderson
Shirley Sargent (1961)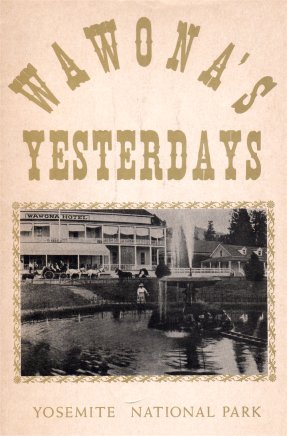 Yosemite in 1860 A Vacation Among The Sierras --NOW ONLINE---by Dan Anderson
King, Thomas Starr
John A. Hussey San Francisco The Book Club of Calif. 1962.

YOSEMITE VALLEY CHAPEL- 1879-1979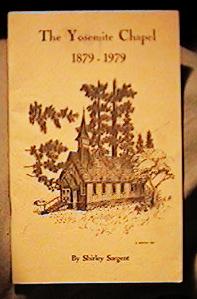 Shirley Sargent, pub 1979

YOSEMITE's FORGOTTEN PIONEERS-***
The Bruces of Wawona
Annie Reynolds and Thomas Bruce Phillips (1999)
$17.95 plus shipping and postage- ***email tbp@yosemite.net

YOSEMITE'S HISTORIC WAWONA
Shirley Sargent, 1979.

YOSEMITE & ITS INKEEPERS
Shirley Sargent (1975)


YOSEMITE LEGENDS
Published by Paul Elder and Co San Francisco in 1904
Bertha M.Smith and illustrated by Florence Lundborg-this is an account of the legends surrounding the formation of Yosemite through the eyes of Native
Americans
YOSEMITE, MY HEART AND HOME
Miarian Woessner (2001)
order information here:
http://www.danielpublishing.com/bro/woessner.html

YOSEMITE RANGER ON HORSEBACK
Warren Moody Pioneer Publishing Co

YOSEMITE RANGERS 1898-1960
Shirley Sargent (Yosemite, CA: Ponderosa, 1998)

YOSEMITE TOMBOY
Shirley Sargent (1994)
http://www.netstoreusa.com/jubooks/096/0964224402.shtml

YOSEMITE: Where Mules Wear Diamonds,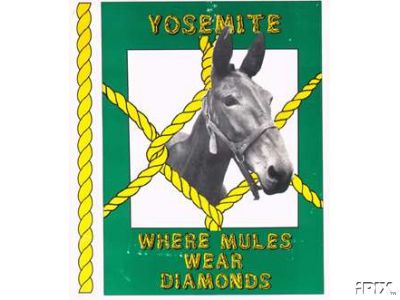 Bob Barrett (1989)


YOSEMITE YARNS--ONLINE - cover photo of Eddie Webb
The Old Stagedriver's Yosemite Yarns (1962) by Laurence Degnan and Douglass Hubbard
created 5/10/2001
Carolyn Feroben
copyright 2001- 2006
updated May, 2006