The Second
John William Guest Family
of Mariposa County - Quartzburg



John William Guest II (1854-1922), eldest son of John William and Elizabeth Tracy Guest, was born in Ohio. His family1 migrated to California in the late 1850's and settled in the town of Bear Valley, Mariposa county. By the age of 16, he left home and took up residence on the western side of Bear Valley Mountain. He worked as a labor probably in agriculture, but soon he followed his fathers foot steps and became a "hard rock" gold miner. He was employed at the Washington mine.

It was at the Washington mine, where he met Mary Marilda Scott (1859-1935) whose family2 had traveled over the Great Plains to California. John and Mary were married at the Washington mine on October 12, 1878. The ceremony was conducted by Justice of the Peace Samuel W. Carr.

It was not long after their wedding, that John was almost killed at work. At the Washington mine, he was near the mouth of the mine shaft when he lost his footing and fell into the near vertical shaft, luckily for him that the skiff was nearing the top of the shaft and he tumbled into the skiff. Except for a few bruises he was able to resume his work.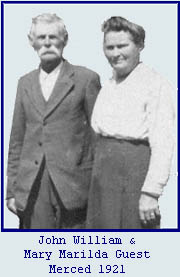 John William was a member of the Hornitos Lodge of the Independent Order of Odd Fellows and Mary was a member of the Rebecca Lodge, the ladies branch of the Odd Fellows fraternity.
John and Mary had a ranch, approximately 360 acres, at the intersection of Bear Valley Road and Mount Gaines Road. The Mount Gaines road actually divided the property. The author believes a portion of the property had been owned previously by the William Simmons family. Another piece of the ranch was homesteaded by John and Mary. They built a large nine-room house east of a small stream that ran through the property. An artisan well supplied the water for the house. A large barm (still standing in 2002), blacksmith shop and harvester shed were also built on the ranch. A portion of the origin house, the Simmons house, that was located next to the stream was torn down.
They ran cattle and engaged in farming. But, mining was in John's blood and he left the animal husbandry and farming to their sons. Over the years he sank several mine shafts on the property. If a mine did not produce, he would blast it shut and start excavating another elsewhere on the property. Apparently the last mine did produce some results - probably enough to help support the family.
It was on the ranch where most of their nine children were born, all of whom lived well into adulthood. The children were named: Lulu Bell(1879-195?), John William III(1881-1942), Clarence Scott(1883-1956), Charlotte May(1885-1980), Minnie Minerva(1887-1975), Albert Henry(1893-1984), Elijah Walter(1898-1981), Blanche Lacy(1900-1982), and Norman Edison(1904-1985). The children all attended the Quartzburg school. In fact the diploma of the youngest daughter, Blanche, is part of the Mariposa Museum collection3.
By 1921, the entire family had moved away from Mariposa county. John and Mary owned an operated the old Tuolumne Hotel on Main Street in Merced. It was there on February 13, 1922 that John, as had his father and brothers, died of the dreaded Miners Consumption. After his death, Mary retired to a small home on 19th Street in Merced. Her eldest son John William, his wife and son lived across the street. Her daughter, Charlotte and her family also lived in the neighborhood.
Mary enjoyed being in Merced near many of her grandchildren. While working in her garden she fell a broke her hip, an injury from which she never fully recovered. Mary pass away on August 9, 1935, while visiting her daughter Lulu and husband on their farm near Strathmore (Tulare county). Most of her children were at her bedside at the time of her death.
John and Mary are buried approximately four miles from their ranch. Their remains are interned in the Odd Fellow Cemetery outside of Hornitos. Adjacent to Mary's mother, sister, brother, uncle and his wife. The grave site is quit distinctive, in comparison to other graves in the cemetery, in-as-much it is on the downward slope of a hill, capped with a heavy level slab of smooth concrete which covers both graves, the marker is polished marble in the shape of a bible with their names etched into the stone.
The five sons and John McMillian, a son-in-law, were pallbearers for both John and Mary's funerals.
As for the offsprings of John and Mary Guest, Lulu married William McMenemy, they had an orange grove near Strathmore; John William (third) married Irene Lord of Quartzburg moved Merced worked as an Engineer for the Yosemite Valley Railroad, later he was engaged in his trucking business, his major accomplishment was building and operating the Motel Merced on highway 99. Clarence followed the mining trade to Nevada there he married and later returned Quartzburg to work at Mount Gaines as foreman of the stamp mill. Charlotte married Henry Black, but later divorced and remarried John Langley of Merced. Minnie married John McMillian of Hornitos, he studied to become a watch maker and engaged in that profession in the railroad town of Dunsmuir (Siskiyou county), later they had a pharmacy and jewelry store in Colusa. Albert married Maude Heacox of Merced and they made their home in Merced and Petaluma (Sonoma county). Elijah wed Effie Lowery of Mariposa they too lived in Merced where he was a fireman for the Yosemite Valley Railroad, he retired form the Southern Pacific Railroad at Stockton; Blanche married Milton Hill, a carpenter, they lived Merced and later Redwood City. Norman married Mabelle Goodrich of Legrand (Merced county) in 1925, he worked as a mechanic in agriculture and trucking. Norman later became a fireman and advanced to the rank of captain for the Merced County Fire Department.
Albert served the U.S Army, Combat Engineers, and was with U.S Expeditionary force in France during World War I. Elijah also, served in the U.S Army, except during World War II, because of his age he was not engaged in overseas operations.
The entire family was very proud of their roots in Mariposa county. They often returned to the ranch for family reunions. When possible, some members of the family would attend the "Homecoming" that was sponsored by citizens of Mariposa county.
The family ranch was leased to Tom Lord, but remained in the family until 1950 when it was finally sold.


---