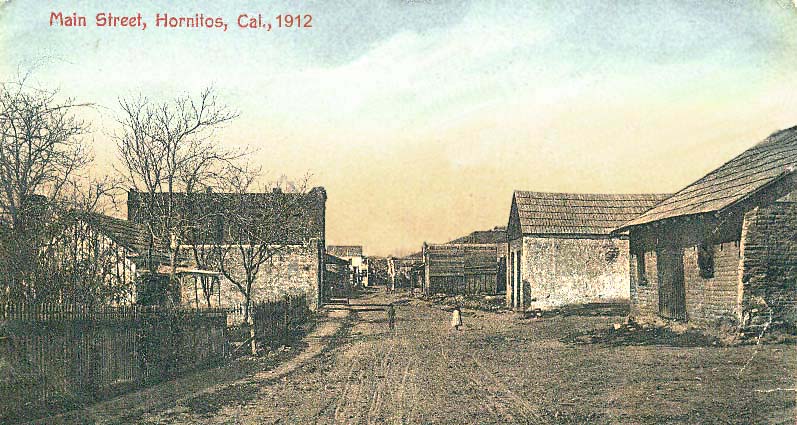 Main Street Hornitos, 1912, published by Mrs. F. Olcese
photo donated by Janet Foster (jmaefoster@hotmail.com)

Janet is researching the REEB family.

From the Mariposa Gazette, May 15,1925- transcribed by Steve Miller, March 9, 2002
HORNITOS
Poem by Ned Prairie
Way back in the early days,
When digging for gold was the strong
man's craze,
I have seen your streets 'neath the
coaloil night,
When your day began at the fall of
night
When the miners came with their
sacks of gold,
And the game ran high for the free
and bold,
And the couples sped o'er the dance
hall floor,
Hornitos knows them now no more
Gone are those days--now all that's
left,
Are the lonely graves on the side-
hill crest,
And the adobe walls of the Plaza
square
Stand giant and grim in the sun-
light's glare.
Now-the squirrels play in the grass-
grown streets
That resounds no more to the miners'
feet,
And your crumbling walls are the
only signs
That's left of the Days of '49.

RETURN TO THE MARIPOSA COUNTY PHOTO INDEX
RETURN TO THE MARIPOSA COUNTY HISTORY AND GENEALOGY SITE
C Feroben
March 7, 2002
November 23, 2002