Stewards of the Land?
Listen Live to the Mount Hermon Forest

Luke 16:2, 10, 13. And he called him and said to him, "what is this I hear about you? Give an account of your stewardship, for you can no longer be steward. He who is faithful in a very little thing is faithful also in much, and he who is unrighteous in a very little thing is unrighteous in much.
You cannot serve both God and Mammon.



This is an image from the Mt. Hermon Christian Conferences Grounds Web Site-Showing the pristine beauty of the Redwood Forest on their grounds.
BUT- LOOK HERE!
This is an image of what Mt. Hermon has now done to these trees!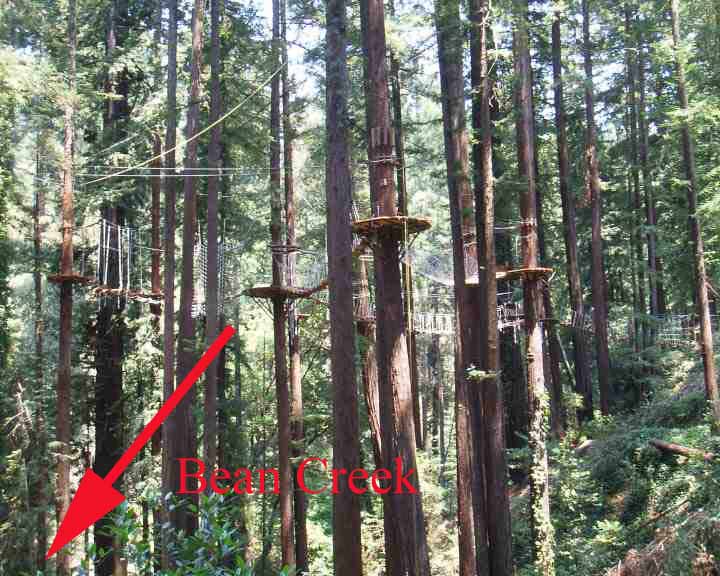 Landscape architect Frederick Law Olmsted Jr. once said, "This generation has received, as a free inheritance from past ages, a hoard of forest wealth. But if any of the future generations for thousands of years to come are to have the opportunity of enjoying the spiritual values obtainable from such primeval forests, this generation must exercise the economic self-restraint necessary for passing on some portion of this inheritance, instead of 'cashing-in' on all of it."
MOUNT HERMON CHRISTIAN CONFERENCE GROUNDS OPTS OUT!

What is a steward of the land?
Is it a Moral or Ethical issue ?

Do we not as a community strive to preserve the beauty of the land we are entrusted with- by either ownership or usage?


Being a steward to land is like being its parent. It's about taking care of the land by protecting its resources, including wildlife, timber, soil, water, natural beauty,
and tranquility.
Stewardship is about making a commitment to the land that helps preserve it for today and tomorrow.
(quoted from )

Desecration
defined by Merriam Webster:
: to violate the sanctity of :

Profane

<desecrate a shrine>
2
: to treat disrespectfully, irreverently, or outrageously
Yesterday's peace and respect of the redwood forest has come to an end at Mount Hermon Christian Conference Grounds as they desecrate their land.

WHAT ARE THEY THINKING?

THIS IS WHAT MT. HERMON ASSOCIATION HAS DONE TO THE LAND ON THEIR CHRISTIAN CONFERENCE GROUNDS IN SANTA CRUZ COUNTY, CALIFORNIA
THE SEQUOIA TRAIL FOLLOWS BEAN CREEK THROUGH THE MT. HERMON CHRISTIAN CONFERENCE GROUNDS. ONCE A PEACEFUL FOREST WALK, NOW IS THE SCENE OF THIS OVERHEAD ROPES COURSE. IT RESEMBLES AN 'E' TICKET RIDE AT DISNEYLAND.
THE ONCE PRISTINE LANDSCAPE, PEACE AND SERENITY OF THIS REDWOOD FOREST AREA OF MT HERMON, CALIFORNIA, IS NOW BEING DESECRATED BY A THRILL "RIDE" FOR THE MT. HERMON CONFERENCE CENTER ATTENDEES.
NOT ONLY A VISUAL BLIGHT , THE NOISE IS UNBECOMING A SANCTUARY OF PEACE AND SERENITY. ENVIRONMENTAL ISSUES ARE ALSO A CONCERN. NEITHER NEIGHBORS ADJOINING THE SIGHTS AND SOUNDS OF THESE RIDES WERE NOT NOTICED OF THIS IMPENDING INFRINGEMENT OF "QUIET ENJOYMENT" OF THEIR LAND. THE MOUNT HERMON COMMUNITY ASSOCIATION OF HOMEOWNERS WERE NEVER INFORMED OF THESE PROJECTS.
ACCORDING TO THE SANTA CRUZ PLANNING DEPARTMENT NO BUILDING PERMIT WAS REQUIRED FOR BUILDING THIS ROPES COURSE. THEREFORE THIS PROJECT WAS NOT SUBJECT TO A CEQA (California Environmental Quality Act) REVIEW BY SANTA CRUZ COUNTY PLANNING/BUILDING DEPARTMENT. (QUESTION- WHY DOES THE SANTA CRUZ BUILDING DEPARTMENT

WEBSITE

STATE THAT ANY PLATFORM OVER 30 INCHES OFF THE GROUND

REQUIRES A BUILDING PERMIT?)
THIS IS A VISUAL ASSAULT TO THE FOREST, AND AN AUDIO ASSAULT TO THOSE LOOKING FOR A PEACEFUL WALK IN THE WOODS, or SITTING IN THEIR OWN YARD.
PLEASE NOTE IN THE PHOTO BELOW THE PLATFORMS----ACCORDING TO THE SANTA CRUZ BUILDING DEPARTMENT WEBSITE, A BUILDING PERMIT IS REQUIRED FOR ANY PLATFORM OVER 30 INCHES FROM THE GROUND!!! BUT NO BUILDING PERMIT WAS ISSUED FOR THIS ROPES COURSE! WONDER WHO DOES THE SAFETY INSPECTIONS AFTER THE INSTALLATION OF THE COURSE?
PERHAPS THAT IS WHY JUMPING OFF THE PLATFORM IS CALLED

"A LEAP OF FAITH"!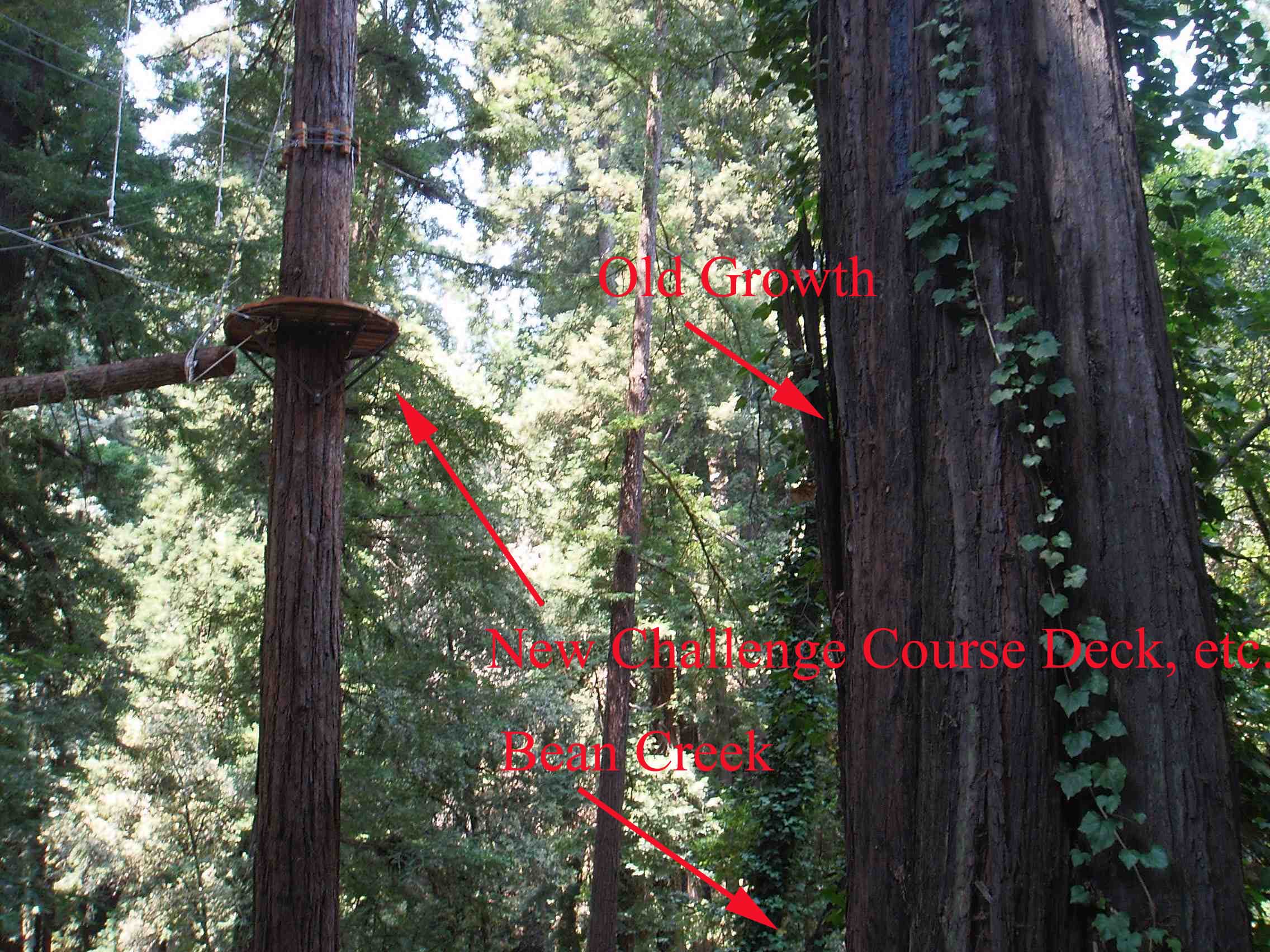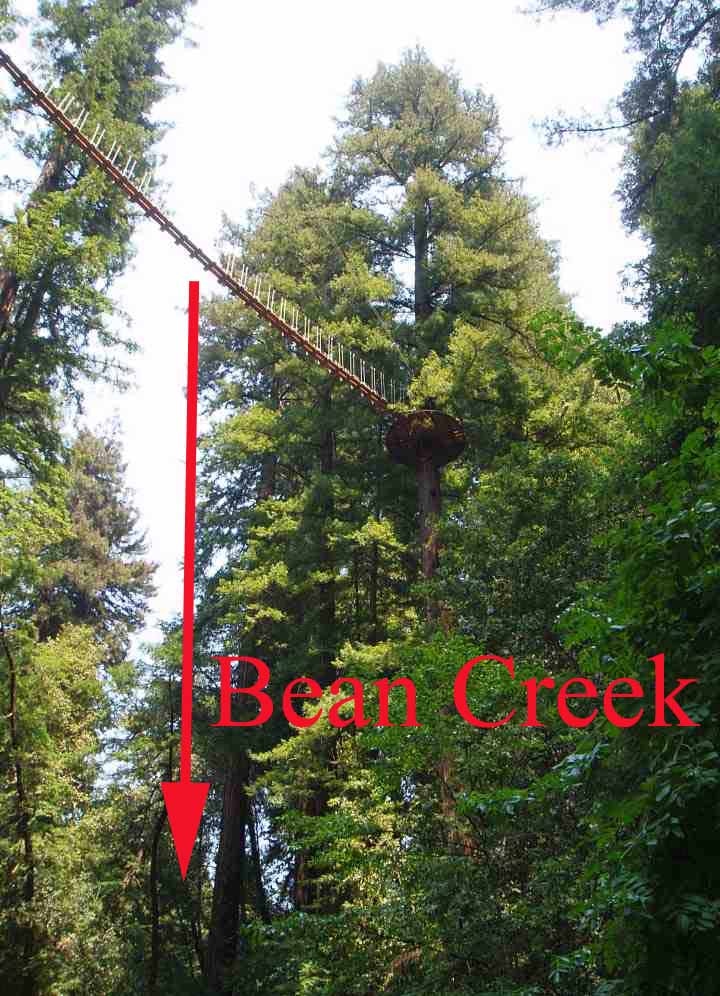 SEE THE MOUNT HERMON BLOG SPOT FOR FURTHER INFORMATION